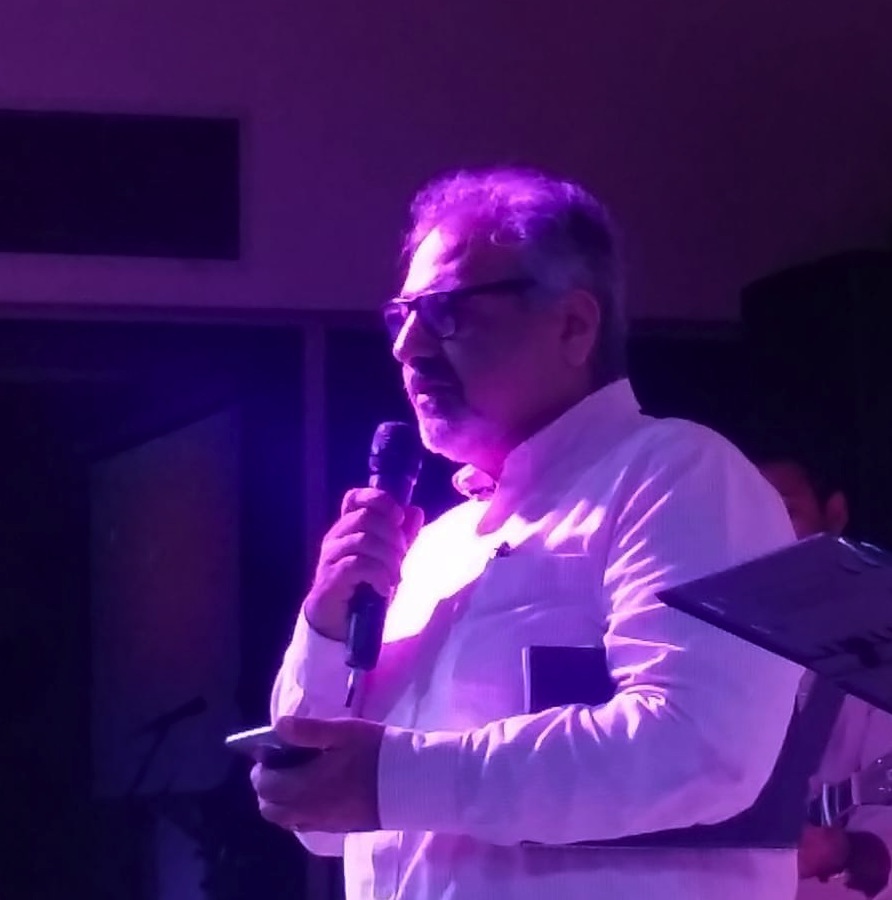 A poem by Urvaksh Naval Hoyvoy
It's nice to have a place to go,
where the broken people meet,
God may not be on everyone's mind,
But He is everyone's heartbeat,

Why go to Church, why not just sit alone & pray?
Am I not a church? Did He not say?
We must not show ourselves in prayer,
It must be done in a closet,
It must be in secret,
Between my Master & me,
Let no one see,
My passions, my lamentations, my promises, my giving, my tears, my fears,
Let them be, between Him n me,

But God said this too,
Where gathered are more or two,
I will be there, when you call my name,
I am an unextinguishable flame,
I rejoice when you gather,
Music, hugs, dancing & laughter, so glad you came,

When you cannot love those you can see,
How can you love an unseen Me?

God is here, God is there,
Oh my gosh He's everywhere!
Where you are He does not care,
He sees your heart, when you are willing to bare, willing to share,
God is here, God is there,
Oh my gosh, He's everywhere, 

Come be loved, come and see,
Dare I say……. come to C3?

Every tree that bows to Him,
Has fruit and seed and let's it go,
Never forced to plant itself,
For in one place two can't grow,
The joy of the tree is to give the fruit,
The joy of the wind is to take it and go.

'Joy of the wind,' read at C3 Mumbai by it's author Urvaksh Naval Hoyvoy on Sunday, 24 September 2018.
Explanation of text
When Rachel asked me if I would read the poem in Church, (not to be taken lightly), I had to ensure that my poem did not contradict, add or subtract from my precious God's Words and so I marked each line and went through the Bible.

I have tabulated (herein below), each of my poems verses and the Verses from the Bible. The exercise was a wonderful experience in itself.

Our lives may be lived centuries after these Words of God were spoken but they are as vibrantly alive and relevant to our life experience today as they were then. It never ceases to astonished me how these Words are living breathing alphabets, that rise out of The Book and sit right next to me, helping me make sense of my joy, pain, confusion & faith.

The last verse of my poem was a result of my friends concerns about joining a new Church. The seed for my faith was sown in a Church in the USA, it was watered in a Church in India, and now that Church has left and so I came to C3. Paul wrote that the sower & the waterer and the people that nurture are all from God, none of us can take credit.

Church is not just about worship but also about fellowship, encouraging each other and growing together. It is both inclusive and exclusive of our intimate relationship with Jesus Christ.

When a society's language changes, someone has to stand up and speak the message in new vibrations, it is so encouraging to see such a young flock, who desperately need to hear The Gospel, it seems Rachel & Ryan have been anointed to take the old message in the new language to their young flock.

Matthew 9:17
17 Nor do they put new wine into old wineskins, or else the wineskins [a]break, the wine is spilled, and the wineskins are ruined. But they put new wine into new wineskins, and both are preserved."

Man truly cannot live without hope, & These Words of God are the one & only Hope for all humanity.

These Words saved my life.

Thank You Jesus.

Eternally grateful for His Amazing Grace,

Urvaksh Naval Hoyvoy

-//-
Bible verse references
1). Acts 13:44
And the next sabbath day came almost the whole city together to hear the word of God.
1 Thessalonians 5:11
11 Therefore encourage one another and build each other up, just as in fact you are doing.
2). Matthew 6:6
6 But when you pray, go into your room, close the door and pray to your
Father, who is unseen. Then your Father, who sees what is done in secret, will reward you.
3). Matthew 18:20
20 "For where two or three gather in my name, there am I with them."
4). Ephesians 5:18-19
18 Do not get drunk on wine, which leads to debauchery. Instead, be filled with the Spirit, 19 speaking to one another with psalms, hymns, and songs from the Spirit. Sing and make music from your heart to the Lord.
5). John 20:29
Then Jesus told him, "Because you have seen me, you have believed; blessed are those who have not seen and yet have believed."
6). Lamentations 3:22-23
22 It is of the Lord's mercies that we are not consumed, because his compassions fail not.
23 They are new every morning: great is thy faithfulness.
1 Corinthians 3:6-9
6 I planted the seed, Apollos watered it, but God has been making it grow. 7 So neither the one who plants nor the one who waters is anything, but only God, who makes things grow. 8 The one who plants and the one who waters have one purpose, and they will each be rewarded according to their own labor. 9 For we are co-workers in God's service; you are God's field, God's building.